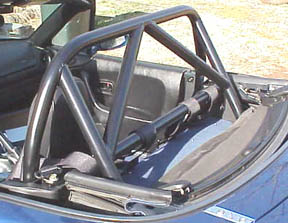 For the past year, I've been running my car with a four-point Schroth Profi-II harness. The shoulder straps were mounted to a single eye-bolt on a tab welded to the roll over bar. However, from 2009, this arrangement will not be acceptable as the MSA are requiring that the shoulder straps have separate mounting points.
I've therefore purchased a
Hard Dog Harness Bar
from
Performance5
. This bolts to the seatbelt towers and allows the harness straps to be wrapped around it, effectively giving two separate mounting points.
I've also bought a set of lightweight 14" alloys from a Mk1 1.8iS. These weigh around 4.5kg and will be fitted with a set of Toyo T1-R in 195/45 14 which will be lighter and will have an 8% smaller circumference. So, a significant weight saving plus smaller wheels = faster acceleration. At least, that's the theory!